We were looking for the perfect pre-workout meal. A meal before exercise should give you energy and prepare your body for the efforts it will be exposed to. Unsurprisingly, the answer is oatmeal.
Eating oatmeal before a workout provides energy and improves physical performance. It also reduces the negative consequences of oxidative stress caused by intense exercise.
In this article:
BENEFITS OF EATING OATMEAL BEFORE A WORKOUT
Oats belong to the so-called superfood, food that strengthens our immune system due to the high content of nutrients and antioxidants. They are rich in proteins, vitamins, and minerals. Oats are one of the best-known sources of dietary fiber and β-glucan. Dietary fiber is known to aid in losing and maintaining a healthy body weight. Also, after consuming food rich in dietary fiber, such as oatmeal, we do not feel hungry for long.
Research has shown that consuming oatmeal before training reduces the production of reactive oxygen species – ROS. This is very important for anyone who engages in high-intensity exercise. Strenuous exercise affects excessive ROS production, leading to muscle damage, aging, and degenerative diseases. Eating oatmeal before training significantly reduces the mentioned negative consequences. That's why this kind of food should be the first choice for everyone wondering the best thing to eat before a workout.
Oatmeal is probably the most popular and one of the healthiest breakfast choices. A lot is already known about the numerous health benefits of oats for adults, and recent studies suggest that oats are an essential component of a healthy diet for children. Those who eat oatmeal for breakfast have been found to have a better diet quality and increased intake of nutrients. Therefore, oatmeal could be an ideal pre-workout breakfast for the whole family.
HOW TO MAKE THE MOST DELICIOUS OATMEAL?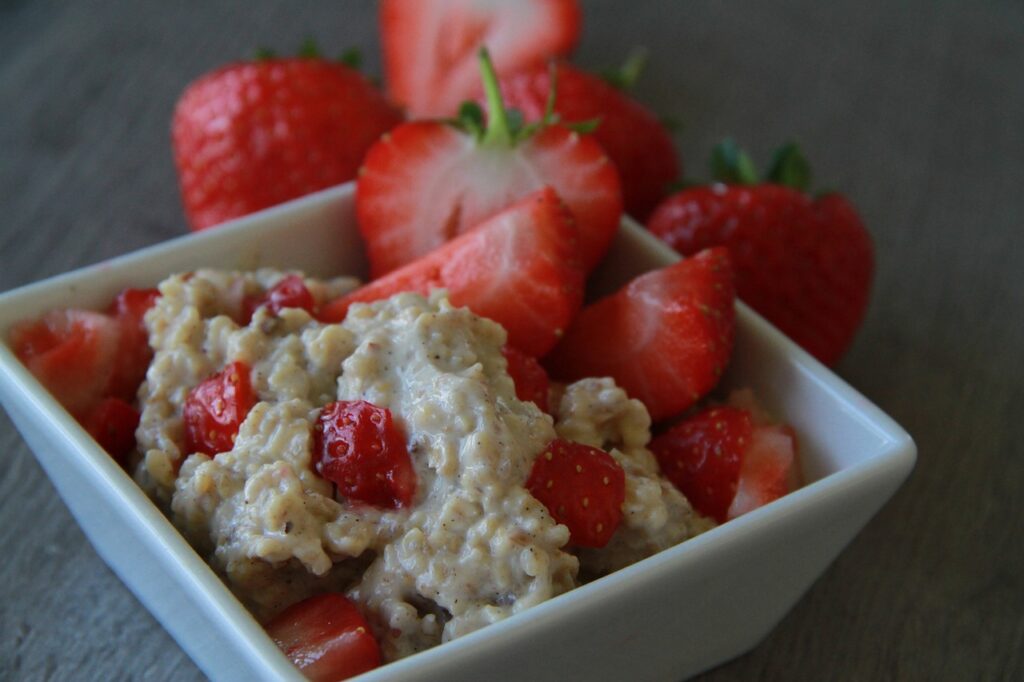 There are many ways to make oatmeal. The three basic ones are:
Cooking in a saucepan
Pour 1 cup of water into a saucepan and bring to a boil. Stir in 1/2 cup of oats. Cook on medium heat for 5 minutes unless otherwise noted on the product. Stir occasionally.
Once cooked, serve in a bowl and add fruits such as berries, bananas, and nuts. You can add honey, cinnamon, chia seeds, or whatever you like. In the end, cover it with yogurt or milk.
For this kind of oatmeal preparation, we recommend Quaker Oats Old Fashioned.
Preparation in a microwave oven
Place 1/2 cup oats, 1/2 cup water, and 1/2 cup low-fat milk or coconut/almond milk in a microwave-safe bowl. After 3 minutes in the microwave, add fruit, nuts, and other toppings you like.
Almonds are a perfect addition to oatmeal, especially before a workout. You can read more about it here.
Quaker Oats (quick or old-fashioned) is suitable for microwave oatmeal.
If you are in a hurry, you can prepare instant oatmeal in the microwave in less than 1 minute. They come in pretty cups with different flavors. Remove the lid and add water to the line inside the cup as indicated. Stir, and after 50 seconds in the microwave, your oatmeal is ready. It's simple, quick, and delicious.
Overnight oats
Cover 1/2 cup of oats in a bowl with 1/2 cup of nonfat milk or yogurt. Leave in the fridge for at least 8 hours. It is best to make it at night before bed and have breakfast ready in the morning. If you want it crunchy, add extras like nuts in the morning before eating.
It is best to try all the preparation methods and choose the best for you.
THE HEALTH BENEFITS OF OATMEAL
Before their widespread use as a food, oats were used for medicinal purposes because of their numerous health benefits.
Oats are a source of soluble fiber in the form of β-glucan, insoluble fiber, protein, vitamins, and minerals. β-glucan is known for its cholesterol-lowering properties and helps with dietary weight loss.
β-glucan in oatmeal also regulates insulin secretion and is used to treat diabetes.
It has been proven that oats improve the immune system, eliminate harmful substances from the human body, suppress inflammation, and even improve skin health.
Consumption of oatmeal has been associated with a reduced risk of heart disease and anticancer effects.
Instead of buying expensive nutritional supplements, increase your intake of oats and strengthen your immune system with a healthy and balanced diet.
IS IT OK TO EAT OATMEAL BEFORE BED?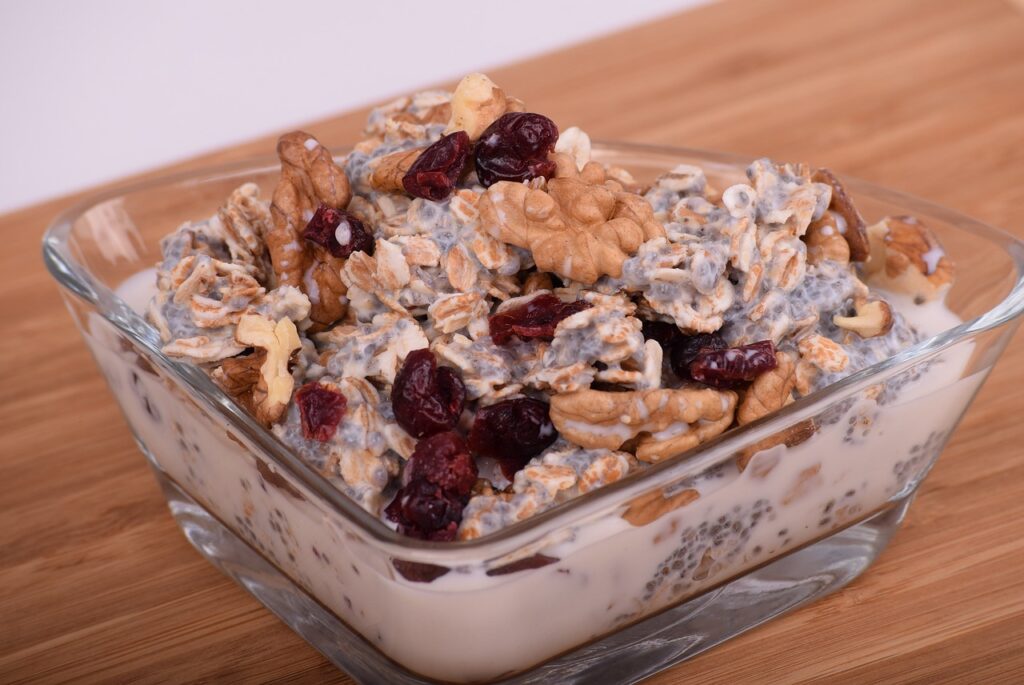 Definitely yes. Oatmeal does not have to be just a healthy breakfast but also a great bedtime snack. If you often have trouble falling asleep, choose foods rich in melatonin in the evening. Research results confirm that eating melatonin-rich foods helps you quickly fall asleep and improves sleep quality.
Oats are a natural source of melatonin, so they are suitable for sleep. Bananas, walnuts, and almonds also contain melatonin, so feel free to add them to your oatmeal for a more significant effect and an even tastier meal.
Oats are great for achieving a healthy body weight, so it's a meal that won't leave you feeling guilty after eating. Next time you feel hungry before bed, choose oatmeal.
DID YOU KNOW YOU CAN MAKE A SOOTHING BATH WITH OATMEAL?
Research shows the practical results of using oatmeal in dermatology. It is used in shampoos and various cosmetic preparations for skin care. It is beneficial for dry and sensitive skin because it has a soothing effect.
We offer a simple way to make an oatmeal bath and make your skin smooth and silky. Fill the tub with warm, but not hot, water and pour in a cup of oatmeal. Lie in the bath with oatmeal for 15 to 20 minutes. Add 5-6 drops of fragrant essential oil, such as lavender essential oil, for additional relaxation. You can also add rose petals or any other herbs you like. Be careful if you have skin inflammation or a rash. In that case, make a simple bath with only oatmeal, without additives. Enjoy this soothing bath whenever your skin feels dry and needs extra hydration.
_____
Using oatmeal in your diet will bring you numerous benefits. It improves your health, and the appearance of your skin lifts your energy and helps you achieve your desired body weight. Choose oatmeal as an ideal pre-workout meal, a healthy breakfast, or a great bedtime snack.
This post may contain affiliate links. You can read the affiliate disclosure here.