You must have heard countless times that including green smoothies in your daily diet would be great. People who regularly engage in sports activities and others who promote a healthy diet and lifestyle cannot imagine their day without these healthy drinks. Whether you enjoy a green smoothie every day and are looking for new recipes or have finally decided to change your lifestyle habits and do something good for your health, you are in the right place.
In this article, discover the best detox green smoothie recipes to enjoy in 2023. Also, find out the health benefits of daily consumption, whether green smoothies are a good choice for breakfast, and whether they can help you lose weight.
A SIMPLE GREEN SMOOTHIE FOR BEGINNERS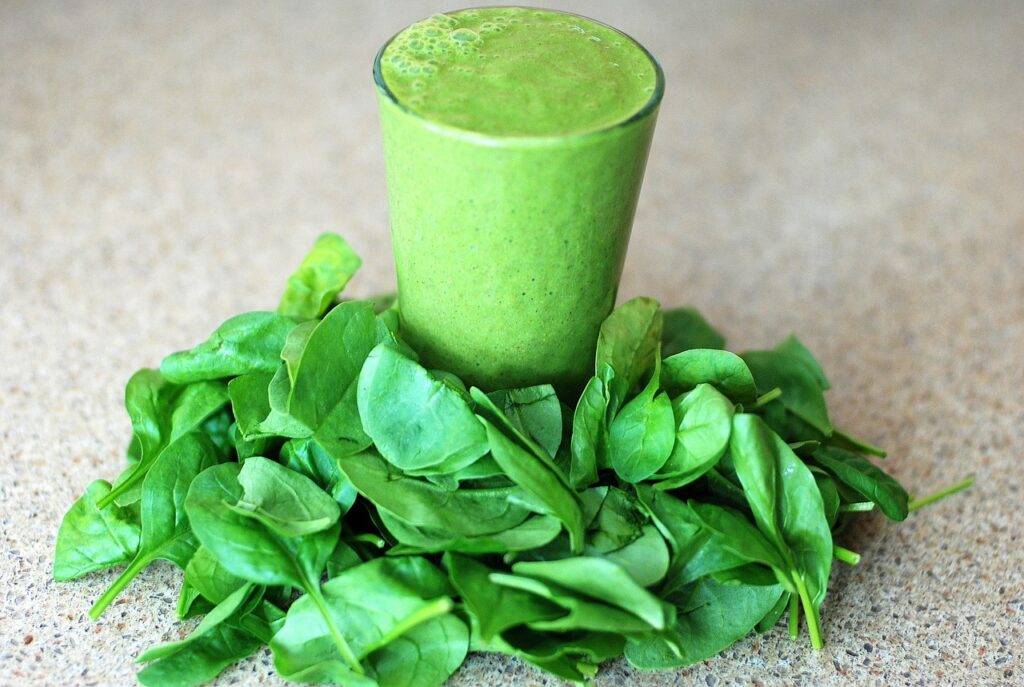 You're probably wondering what makes green smoothies so unique. The answer is green leafy vegetables. Green leafy vegetables such as spinach and kale are a treasure trove of vitamins and nutrients. Unfortunately, we eat it in small quantities. Thanks to green smoothies, we will significantly increase the intake of leafy greens and other fresh fruits and vegetables. In addition, in this way, we eat them raw and thus do not lose all those nutrients that disappear during cooking.
If you have yet to try these drinks, you probably think the color is strange, and you're afraid you won't like the taste. Allow us to dissuade you. Follow our simple preparation instructions, and soon green smoothies will become indispensable to your everyday life.
Let's start!
It only takes 5 to 10 minutes of your time to make a delicious green smoothie. You need:
Green leafy vegetables (for beginners, we advise you to use spinach because it has a mild taste)
Various fruits and vegetables (you can experiment, but we suggest that you use tried-and-tested recipes in the beginning)
Water, milk, or juice (you can always add more liquid until you reach the desired texture)
Green smoothie with apple, banana, and spinach
This smoothie is perfect for beginners. Based on it, you will already be able to judge whether you need it to be sweeter or prefer some vegetable milk or juice instead of water, etc.
Note: If your blender is of lower quality, it will be better to blend in stages. First, mix the spinach or other leafy greens with the liquid, add the rest of the fruit, and turn on the blender again.
Green smoothie with strawberries and chia seeds
This fantastic strawberry smoothie is sure to make your day. It contains healthy chia seeds, which strengthen our immune system. In addition, chia seeds are rich in dietary fiber, which allows us not to feel hungry for a long time. That is why it is not surprising that many choose such smoothies for breakfast.
Detox green smoothie with pear and ginger
This smoothie has an exciting taste that you must try. It has no banana, as the pear gives it enough sweetness. But if you want, feel free to add a banana, and you can also add a teaspoon of honey if you like a sweeter taste.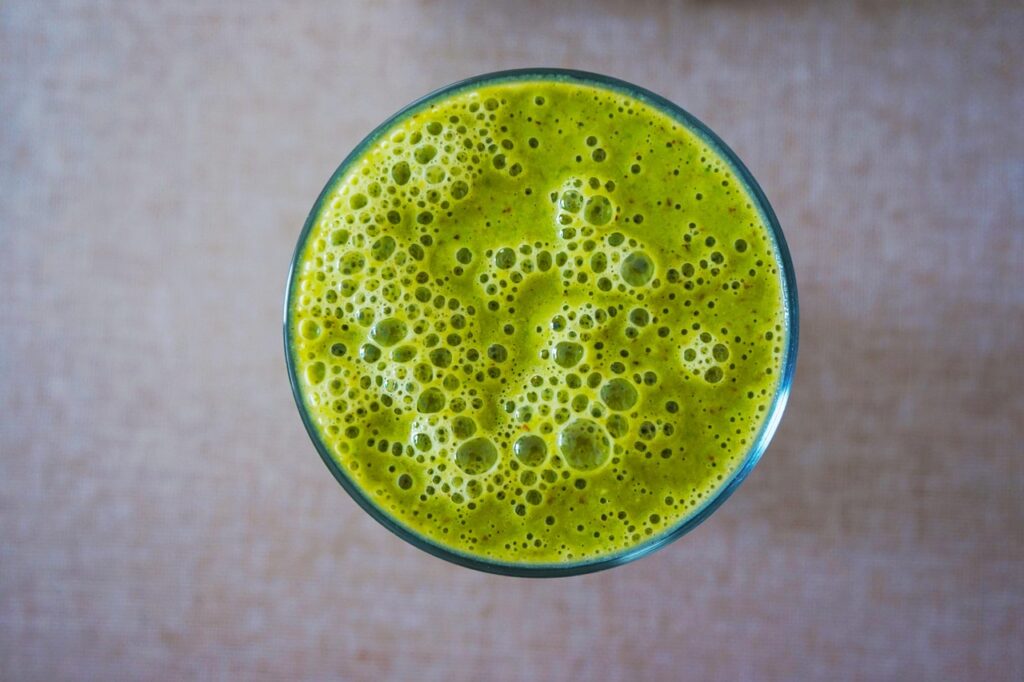 Summer green smoothie with tropical fruits and coconut water
This is an excellent choice if you love summer, the beach, and the sun. Plus, tropical fruits are delightful, so this will become your favorite smoothie if you have a sweet tooth.
Green winter smoothie with red fruit, cacao powder, and cinnamon
A magical smoothie that you will love on winter days. Although it can be used all year round, most people associate cinnamon with cold days. In combination with cacao and red fruit, this smoothie becomes a drink with a divine taste.
Green detox smoothie with kale, avocado, and pineapple
This low-calorie kale smoothie can serve as a very healthy snack. The sweetness of the pineapple nicely softens the strong taste of the kale, and the raspberries are there for added enjoyment. Instead of raspberries, you can freely use cherries, strawberries, blueberries, or whatever you like the most.
We hope these recipes give you some new ideas for making beautiful smoothies. If you are making a green smoothie for the first time, start with our first recipe with apples and banana and gradually change the amount of liquid, the type of fruit and vegetables, and add additives such as seeds, nuts, or honey until you have a smoothie that perfectly satisfies your taste.
HEALTH BENEFITS OF GREEN SMOOTHIES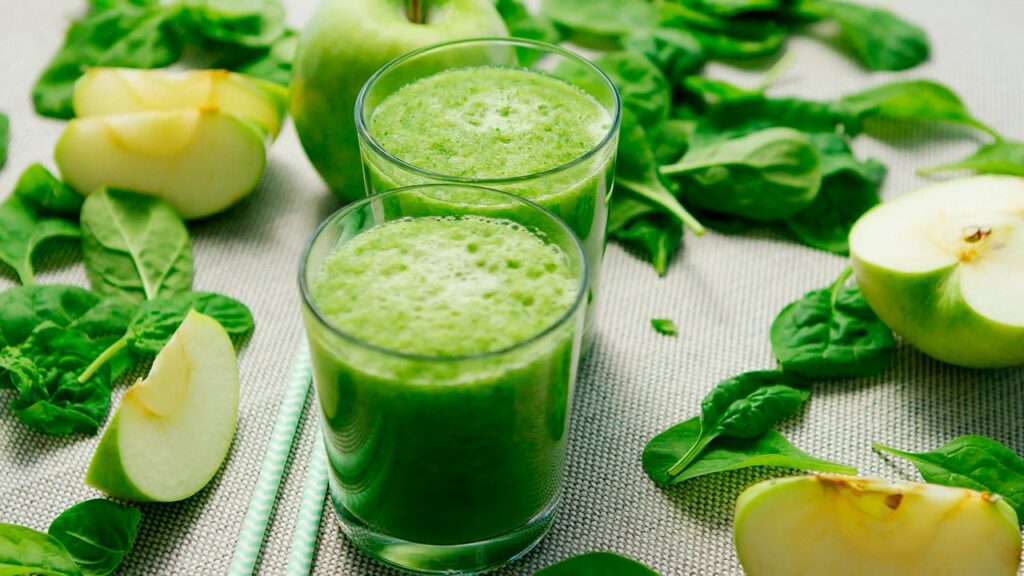 Daily consumption of fresh fruits and vegetables is key to maintaining physical and mental health. World Health Organization has recommended consuming at least 400 g of fruit and vegetables daily. Most people find this recommendation challenging to follow. With green smoothies, that won't be a problem anymore.
If you've had a bad day and you're grumpy, green detox smoothies can quickly lift your spirits. Many studies have confirmed that a high intake of fruits and vegetables, such as citrus, berries, and green leafy vegetables, can reduce psychological stress and promote a higher level of optimism.
A diet rich in green leafy vegetables has been proven to reduce the risk of many chronic diseases. Spinach and kale, for example, contain vitamins A, C, K, and B9; and minerals such as calcium, magnesium, phosphorus, and iron. This is all necessary for the normal functioning of the body. They also contain antioxidant compounds that prevent cancer and cardiovascular disease. Introducing detox smoothies into your daily diet will do a lot for your health.
Green smoothies are delicious; everyone loves them, from children to the elderly. A study on the effect of green leafy vegetables on cognitive changes, in which older adults participated in the Chicago area, showed exciting results. Those who had one to two servings a day showed a slower cognitive decline, as if they were 11 years younger, compared to those who did not consume these vegetables. This study showed that an increased intake of green leafy vegetables could contribute to brain health and slow cognitive abilities decline in the elderly.
Make green smoothies and treat yourself and the whole family to this magical drink.
GREEN SMOOTHIE FOR BREAKFAST
If you are one of those who rush every morning and often skip breakfast, this is a great solution. These smoothies are made in 5 to 10 minutes.
Tip: It will be even faster if you already have frozen chopped fruits and vegetables ready. Wash the ingredients for the smoothie well, chop them, and put them in containers for the freezer. Make sure that you have enough for one smoothie in each container. In the morning, just put the contents of the container into the blender and add a cup of liquid. Your healthy breakfast is ready in a minute.
This drink will wake you up and feed your body with vitamins and nutrients. You will get a massive dose of energy and won't be hungry until lunch. Most importantly, you will supply your body with enough vitamins, minerals, and antioxidants – a perfect start to the day.
In addition, you can take your green smoothie with you and consume it on the way to work or school. But you'd better be careful with this, so you don't get a liquid leak. Pour your smoothie into a suitable cup with a water-tight lid.
Green smoothies are the perfect breakfast choice for everyone, whether you regularly eat in the morning but want to make healthy changes to your diet or skip breakfast because you don't think you have time. Start already tomorrow and see for yourself.
GREEN SMOOTHIE FOR WEIGHT LOSS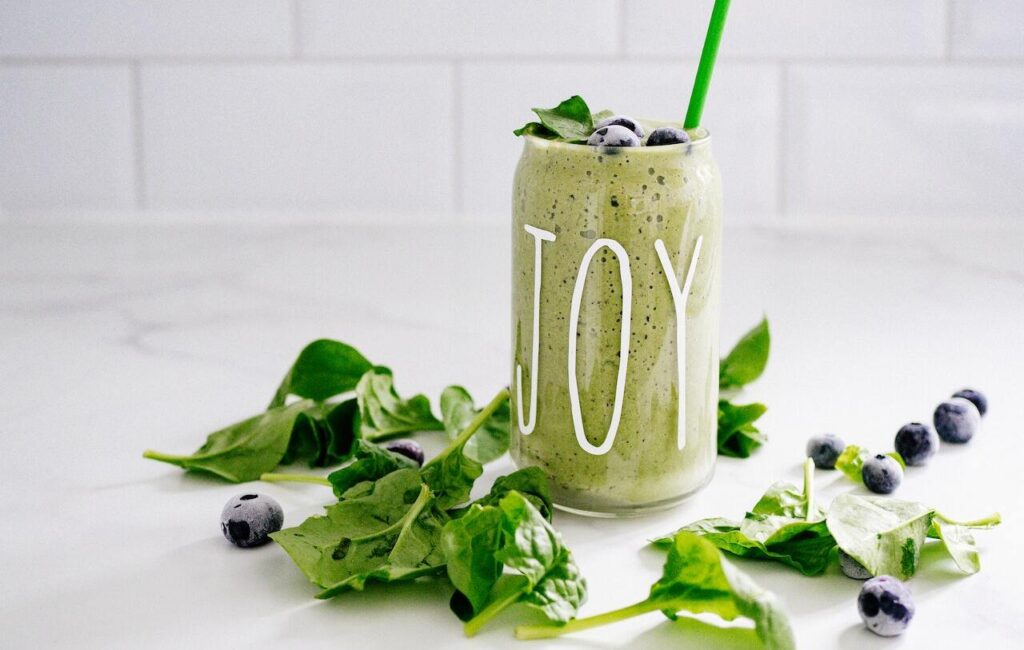 If you are wondering if this healthy drink can help you lose weight, the answer is that it depends. We will certainly not lose weight by adding green detox smoothies to our diet without other changes. But if we replace a snack, breakfast, or dinner with a smoothie, we should soon see results.
For those used to a more extensive breakfast, there may be better choices than replacing that meal with a green smoothie. If you're hungry and just waiting for lunch, starting with a smoothie for a snack is better.
It is also essential to know what your green smoothie contains. We advise you not to buy ready-made smoothies because they may contain various unhealthy ingredients, such as sugar. You have seen how simple the recipes suggested above are, and you can make them very quickly. Most importantly, you choose the ingredients yourself.
Remember that increasing physical activity for healthy weight loss is also important. Don't look for excuses. For a start, it is enough only to walk more. Soon you will feel more energetic and probably choose more demanding exercise forms.
Unfortunately, there is no magic potion for weight loss. Losing weight is a process. But that doesn't have to be difficult at all. A light 15-minute walk daily and replacing unhealthy snacks and sweets with delicious smoothies can be a great start. Start making healthy changes in your lifestyle today.
_____
Let 2023 be the year of introducing healthy habits into your lifestyle. Start by incorporating green detox smoothies into your diet plan by following our simple recipes. Enjoy their magical taste while improving your physical health, reducing stress, and lifting your mood.
This post may contain affiliate links. You can read the affiliate disclosure here.